So that's it. Christmas week is upon us and 2020 is nearly at an end. What. A. Year.
Other than the bleedin' obvious, you'll have your own reasons for remembering 2020. Hopefully, some are good. But what you might have already forgotten, or purposely avoided at the time, were the crazy days of March when a 9% one day swing in the stock market became, well, almost normal.
Here's a chart of the daily change in the value of the US stock market between February 20th and April 20th. Almost every single trading day was wild.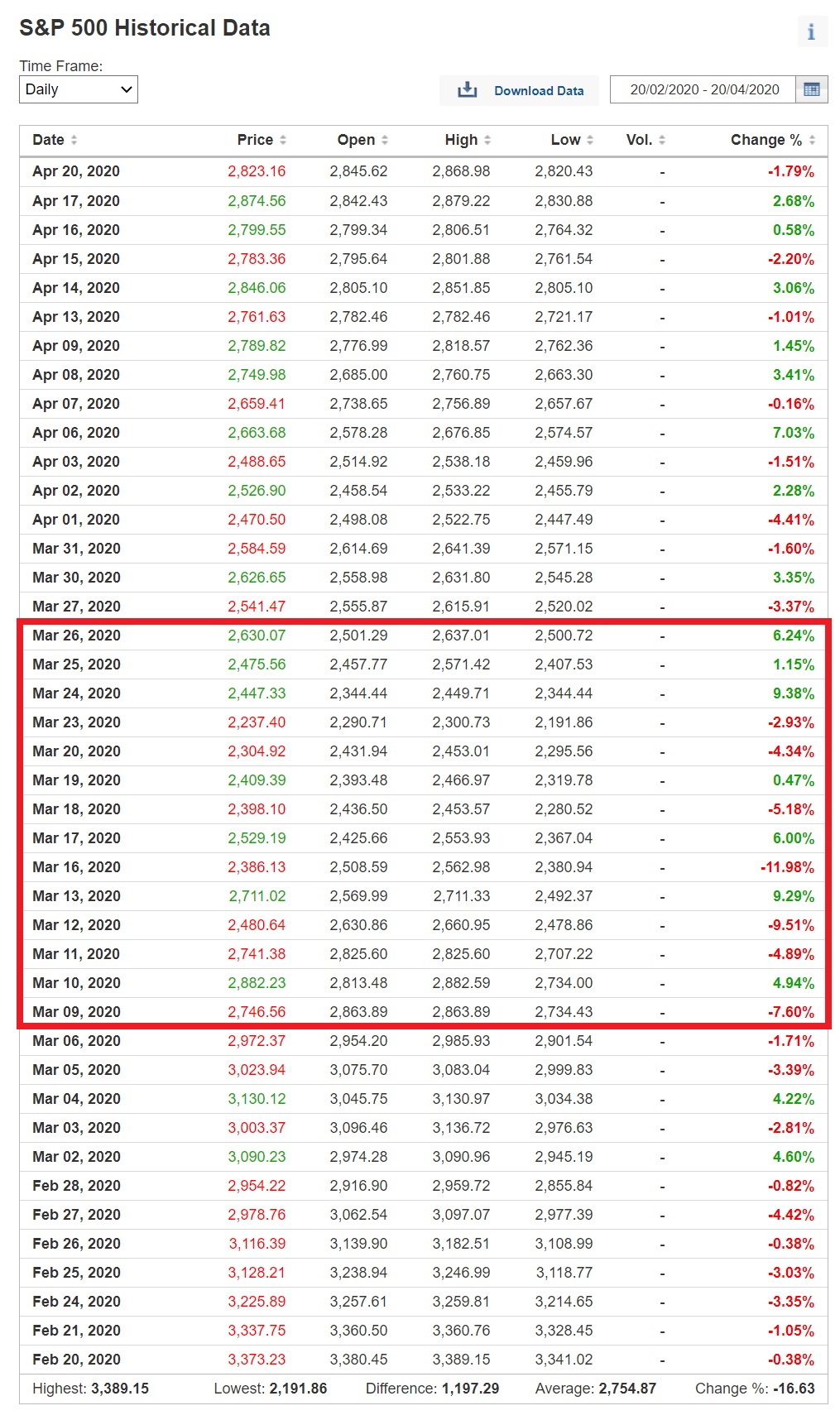 Source: Investing.com
But look at the section I've boxed! On 14 consecutive trading days from 9th of March, the US stock market served up daily changes that had everyone reaching for a bottle at the end of them.
-7, +5, -5, -9, +9, -12, +6, -5, 0, -4, -3, +9, +1, +6. Absolutely bonkers.
Let me put that in perspective. In the WHOLE TEN YEARS prior to 2020, the US stock market traded, more or less, in a daily range of between +1 and -1 and hadn't seen a single day above 5 or below -7. We saw 8 days exceeding those ten-year minimum and maximums inside a couple of weeks! OFF THE CHARTS!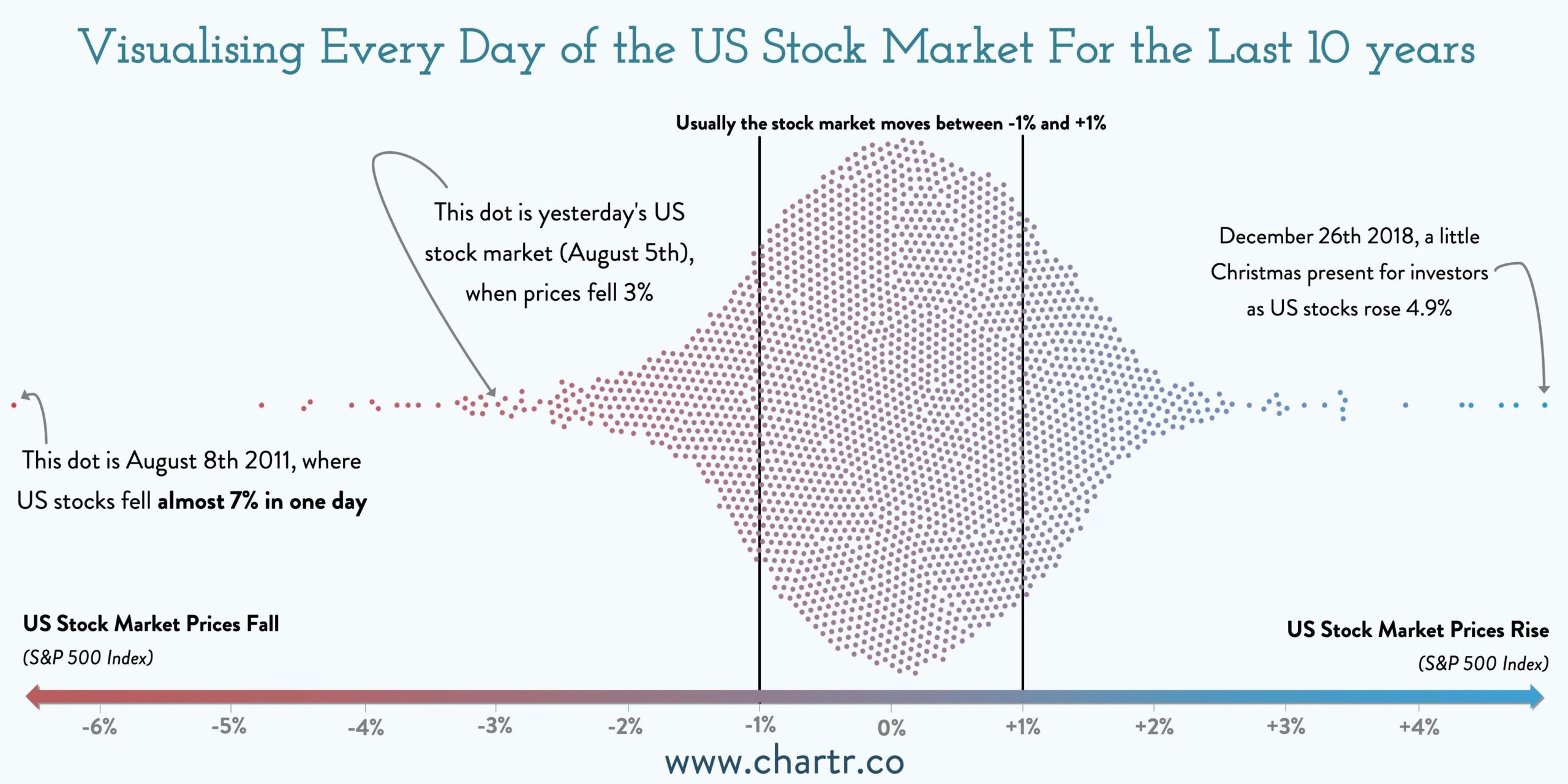 Source: Chart Daily
I won't lie, even we professional advisors leaned on our support systems to snap us out of any negative spiral of doubt we were having during the initial stages of Covid-19. I personally spoke to other advisers who were feeling the stress, and I joined a couple of group Zoom chats with other advisers I know to talk it out. You see, it's good to talk.
And when these periods of extreme volatility rear their head, you wouldn't be human if you didn't have some sort of emotional reaction. The important point is, it's totally normal to have an emotional reaction, but what you must not do is react. Having an independent sounding board is critical.
And after all the fear, believe it or not, if you stuck around and didn't flinch during March, the US stock market is now up by 14% year to date as it stands. Inclusive of the something like -35% top to bottom temporary decline.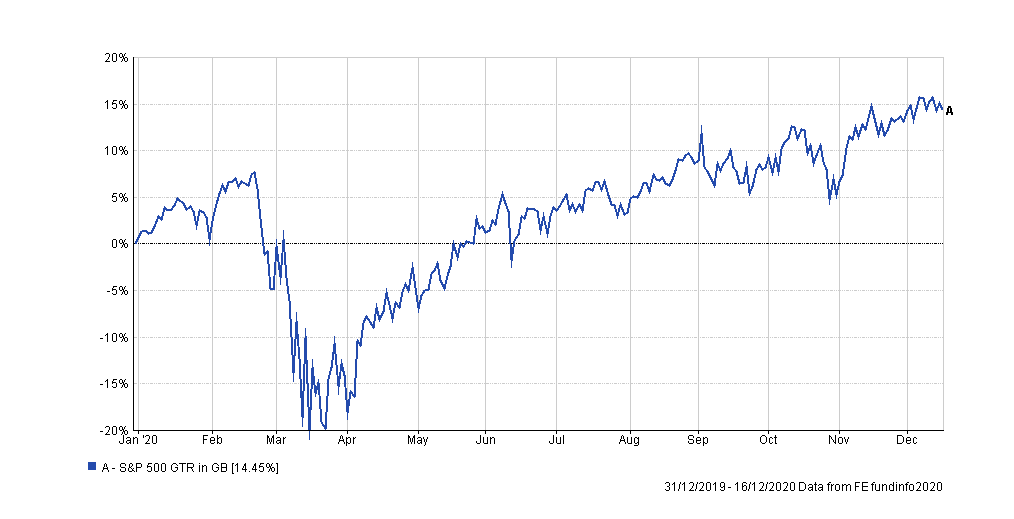 Is everything right with the world and in global stock markets? Absolutely not. Pick any from a bunch of theoretical headwinds. But I choose to look forward optimistically. Maybe that's just the way I'm built, but I just don't see the point in anything otherwise.
And with patience, these days pass, eventually to be forgotten.
No one could have foreseen 2020, so I hope it reminds you not to give credence to the snap forecasts of 2021. It's just the clickbait we think we need to create a semblance of comfort.
The reality, as we all know, is that life, and markets, are messy and complicated. Acknowledge that. All I'm hoping is that next year is in some way better, for everyone.
So, make the most of the last few days of this year. Enjoy the festive break and we'll go again next year, and the year after, and the year after. And with that, my wholehearted season's greetings go out to you all.
Follow me on Twitter @AlexandreRiley