The storming of the US Capitol last week, and the way it was handled, shocked many. But history clearly shows a long line of shocking moments that are more common than we care to know or remember. We have been here before.
Moments in history. For example, the assassination of President John F. Kennedy on 22nd November 1963. In addition to JFK's death, in the US there was a lingering fear of communism, threat of nuclear war and a change to the status quo because of increasing calls for race equality.
Following JFK's assassination, the three major US television networks suspended their regular schedules and switched to all news coverage for 3 days. At the time, the longest uninterrupted news event on American TV. Just like last week, rolling news coverage intensified an already historic event.
The assassination affected many people, not only those in the United States but all around the world. I've previously asked my dad here in the UK about it and he knows exactly where he was when he heard the news.
If I'd have been alive in 1963, I'm sure the assassination and end of what JFK stood for, together with the accompanying conspiracy theories and news coverage, would've convinced me the world was going to shit.
But immediately following JFK's assassination, somewhat in tribute, newly appointed President Lyndon Johnson took on the mantle of pushing through huge efforts to bring the country together as one, by gaining support for the Civil Rights Act of 1964 and Voting Rights Act of 1965.
Johnson made it his mission to ensure black Americans had the legal rights they demanded and deserved, attempting to unite the country as one and finish the job JFK had set out to do. It took a huge effort to convince everyone that it was the right thing to do, but out of adversity came triumph (only legally maybe, but that's another conversation).
Why do I mention all this? Because over the Christmas break, I had time to read 'The Soul of America', a book by historian Jon Meacham. The book sheds light on the present by looking back at several critical times in American history, Civil Rights being one of them, and how hope for the future overcame division and fear. (It's also been made into a documentary of the same name available in the UK on Sky Documentaries, which I'd recommend).
The book intrigued me. Not only because of the relevance to current US political affairs but also because of relevance to the way we think about and analyse whatever the latest investing crisis is.
Meacham explains that every generation thinks of itself as uniquely challenged and under siege. That the questions of the present assume outsize and urgent importance. The reality is, it is not until we take a step back and put things in context with history, do we get a true picture.
"Humankind is forever coping with crisis, or believes it is. Our brightest hours are almost never as bright as we like to think; our glummest moments rarely as irredeemable as they feel at the time". – Jon Meacham
So, whether it be Trump, Covid-19, Brexit, Bitcoin, Tesla or new stock market highs, these current worries might overly consume our thinking. We may not have experienced anything like them before, but you can rest assured that history has something to tell us. Challenging periods are inevitable, but markets and civilisation trend onwards and eventually upwards over time.
I'll leave you with an unrelated historical news story and photo taken in 1918. Included in a recent Sunday read I subscribe to by Investor Amnesia, that tickled me because of the current news cycle. 'Mask Slackers' during a pandemic are nothing new. Another example of 'we've been here before'. Just don't get shot this weekend at Sainsbury's approaching one!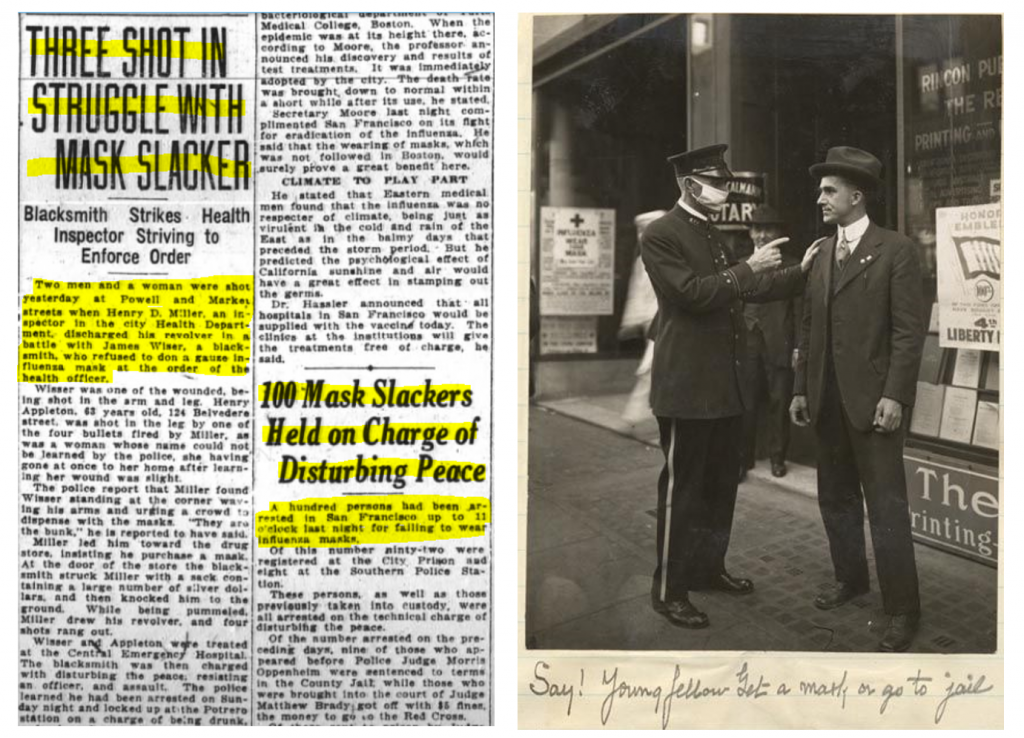 Follow me on Twitter @AlexandreRiley