In the autumn of 2013 I started running to get fit after a long summer of beer and BBQ. I didn't know at the time but the decision to run a solitary mile on that sunny September morning would be the catalyst for my qualification as a 'Chartered Financial Planner'.
After a few idle years acclimatising to being a new parent, my daughter had finally started nursery and my son was at primary school. With my children less dependent than they used to be, and the summer a distant memory, I'd gained some extra personal time (and weight) and I wanted to make a positive change.  I had always been fit before the kids, so the first thing I wanted to do was get back to a resemblance of my normal self.
But one mile turned into five, and a year later I was out on ten-mile runs. I pushed myself to a half marathon and the next thing you know I was booked, paid up and committed to full marathons in New York and Berlin. By the end of 2016, after a few setbacks along the way, I was satisfied I'd laid down the fastest 26 miles I was capable of. The training had been long, hard and time-consuming, but having a big goal in front of me gave me a sense of purpose.
"Having a big goal in front of me gave me a sense of purpose."
And then, just like that, it was all over. Goal achieved and with it, a great big hole in my life. I realised I had at least 6 or 7 hours a week I had to refill with something else positive. I didn't want to slip into watching more TV or go back to helicopter parenting the kids! Sure, I'd keep running to stay fit, but I also needed something else to keep me moving forward.
So, I read a whole lot more, I got involved with, and went to conferences in the US. I started this blog in 2017 and I put in the work needed to make the shortlist for the Personal Finance Society Investment Planner of the Year Award. I spoke to planners at other firms I respected, and it was at this point that a). I knew I couldn't put off the inevitable and b). I knew I was mentally ready. I had to study for the 'Chartered Financial Planner' designation. An advanced qualification less than 20% of qualified advisers hold. Something I'd always intended to do but never quite got around to, on account of other distractions and the commitment in time (and some money). Excuses, excuses.
You might recall that in 2013, commission from product sales was banned in the UK. Financial Advisers were required to demonstrate a level of core technical understanding by completing a range of standard examinations. A clear path was being set toward achieving a professional standing.
I'd already taken quite a few examinations prior to 2013 and had met the standard requirement. However, the additional, advanced qualifications needed to achieve 'Chartered Financial Planner' status, the pinnacle of our profession, was and continues to be voluntary. You don't have to do it to be an adviser or planner.
"Qualifications needed to achieve 'Chartered Financial Planner' status, the pinnacle of our profession, was and continues to be voluntary."
It's a significant task. The 4 chosen examination subjects require a minimum suggested 150 hours of preparatory study time each, plus extracurricular activities. A huge commitment when added to anyone's family and working life. Evenings and weekends of studying it would be then! And with the exams only available to take on specific dates in April and October each year, realistically it was a 2-year commitment.
But the benefits.
Well, over and above my own satisfaction of reaching a professional standing on par with other professions such as accountants and solicitors. As clients, you get to know (if you didn't already) that I have committed to improving public trust in the professionalism of Financial Advisers and Planners.
As a 'Chartered Financial Planner', you and anyone you consider introducing me to, can be sure that I am:
experienced in my field and qualified at an advanced level
publicly committed to values that align with a professional code of ethics through my membership of the Personal Finance Society and Chartered Insurance Institute
always striving to improve
In a nutshell, as a 'Chartered Financial Planner', you can depend on my professionalism, commitment to ethical practice, and the provision of competent and knowledgeable advice based on your needs and requirements.
It started with a one-mile run.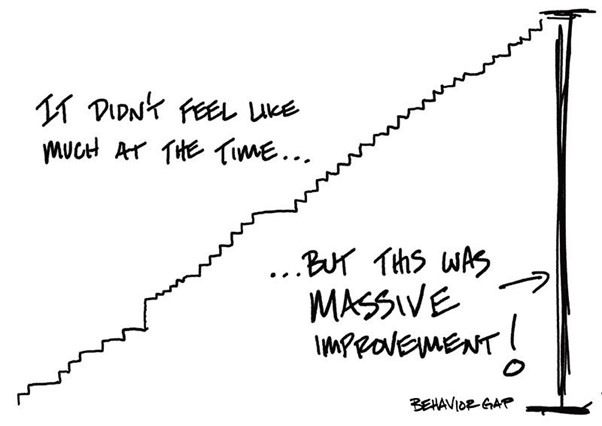 But I won't get carried away here. Qualifications alone are not the be-all and end-all. A qualification does not define who I am, and it does not signify the end either. In fact, you could call it the new beginning.
I believe, in this relatively new age of financial planning professionalism, a Chartered Financial Planner is the standard requirement for those with more complicated circumstances seeking trusted planning and advice. However, it is also imperative you like and respect the people and firm you're working with, as well as their attitude towards how they help you and treat humanity in general.
I hope you do, and I look forward to helping you plan your financial future soon.
Follow me on Twitter @alexandreriley